Trio Farben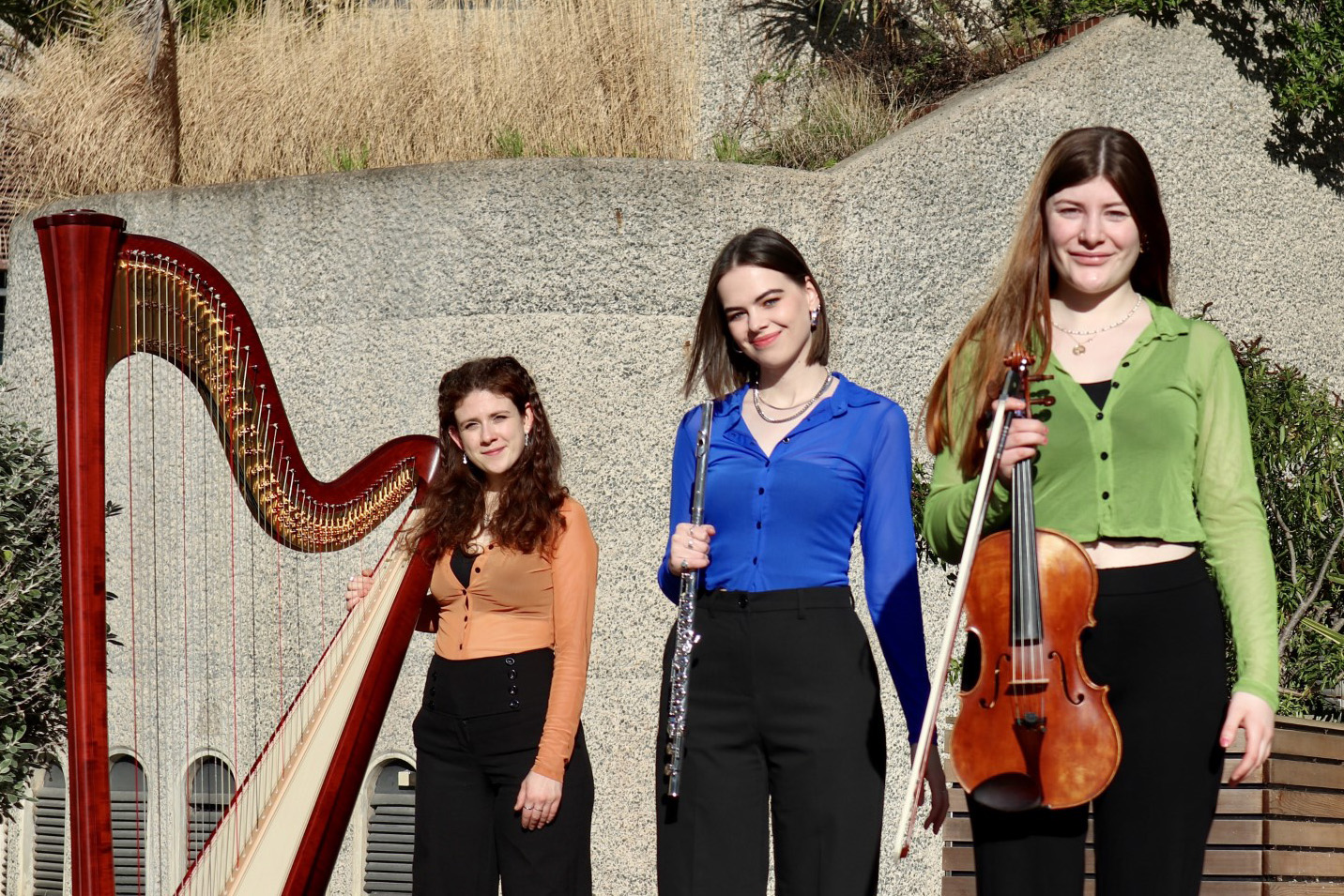 Heather Brooks – Harp
Imogen Davey – Flute
Georgia Russell – Viola
Heather Brooks, Imogen Davey, and Georgia Russell have been playing together as Trio Farben since 2019 when they met during their studies at the Guildhall School of Music and Drama. They enjoy giving recitals regularly across the UK, and have previously been invited to play at Cadogan Hall and Milton Court Concert Hall. They have collaborated with RPS prize-winning composer Adam Possener and Orchestra for the Earth, and recently played in concert with jazz drummer Mark Sanders.
They have performed in masterclasses to Jane Atkins and Robert Levin, and have received coaching from Garfield Jackson, David Waterman, Imogen Barford and Phillipa Davies. All three musicians are experienced solo and chamber players. In 2022, Imogen won the Needlemakers Woodwind Prize at the Guildhall School of Music and Drama. Georgia was invited to play at the International Musician's Seminar's Open Chamber Music at Prussia Cove in 2021, 2022 and 2023. Heather was awarded the 'Special Szeged Government prize' at the Szeged International Harp competition 2022, and is generously supported by scholarships from the Musician's Company, Tillett and Colin Keer Trusts.
In 2023 Trio Farben recorded and released their debut album of Bax, Takemitsu and Debussy.
Programme
Arnold Bax – Elegiac Trio
Tōru Takemitsu – And Then I Knew 'Twas Wind
Claude Debussy – Sonata for Flute, Viola and Harp
Sponsored by Alison Wilkinson
Box Office
Tickets can be purchased in advance and on the day of the concert from the Bridgewater Hall Box Office:
Tel: 0161 907 9000
The Bridgewater Hall
Manchester
M2 3WS
Open Monday – Saturday, 10am – 6pm (8pm on concert nights) and Sunday (concert nights only) 12 noon – 6pm