The Manchester Mid-day Concerts Society is one of the most well-attended lunchtime concert series in the country and is resident at The Bridgewater Hall, Manchester's state-of-the-art concert venue.
Opportunities for Businesses
Support from the business community is vital in allowing the Mid-days to continue to foster young musicians and contribute to the musical landscape of the city. We believe our concerts offer a unique opportunity for businesses to help develop profile, enhance client and partner relationships and contribute positively to staff wellbeing. 
We work with each partner to develop a unique relationship and create a bespoke experience. From just £1000 your business can connect with the Manchester Mid-day concerts in the ways listed below, offering your staff and clients an experience they won't find anywhere else in Manchester at lunchtime.
Branding and Profile
Align your brand with one or a number of concerts in the series, and reach over 5000 audience members per season, plus numerous online impressions. Your company brand will be included on the Society's website, season brochures (distributed to over 30,000 addresses), on concert programmes and concert tickets, plus your company name will be announced on-stage in concert introductions.
Client Entertainment and Business Development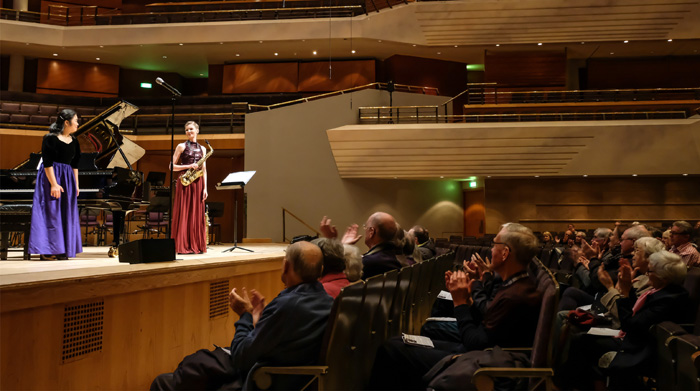 The Bridgewater Hall's exceptional venue facilities and the quality of the musicians on-stage will give your clients an enjoyable afternoon that they won't forget in a hurry.
Sponsorship includes a bespoke number of tickets available for use at sponsored concerts and across the season, where you can invite clients as a special treat or include a performance in a conference. The Hall's cafe/bar spaces are informal and relaxed, perfect for pre or post-concert lunch or afternoon tea for small or large parties.
Employee Engagement
Many of Manchester's city centre workers already attend our concerts at lunchtime, leaving the venue reinvigorated for their afternoon ahead. You can enhance this wellbeing further if you sponsor one or more of the Mid-day concerts. Discounted season-wide ticket offers will be available for staff throughout the year and a bespoke number of complimentary tickets can be made available for staff benefits packages.
In addition to all of the benefits already listed, sponsoring a Mid-day performance means your company will play a crucial role in the development of talented young artists in the early stages of their careers by directly supporting an increasingly rare and important type of concert opportunity within the UK. As well as this, you will ensure the continuation of an accessible, affordable, high-quality concert series that has been based in Manchester for over 100 years, enabling many people to enjoy music who would otherwise be unable to travel to evening concerts, or attend longer or more expensive performances.
Get in touch with us to discuss your business needs in more detail.
"Sponsoring a Manchester Mid-day Concert is a really cost-effective way for us to unite large numbers of our clients during the day in a relaxed atmosphere. Our lunchtime concert and afternoon tea event is an annual fixture for many of our clients and a great way for everybody to get together."
(Brewin Dolphin)

"The Mid-day Concerts are an attractive and distinctive option for our clients, especially those looking for something different. The concerts are fun and enjoyable and we're proud to be able to support such a worthwhile cause."
(Brown Shipley)
Sponsors of the Mid-Days
Brewin Dolphin | Brown Shipley |The Friends of the Mid-days | The Haworth Trust | The Ida Carroll Trust | The Kirckman Concerts Society | The Orchard Trust | The Paul Berry Legacy Fund | The Pierre Fournier Award | The Terence Judd Trust | Mrs A Wilkinson | We also thank two sponsors who prefer not to have their names published
Applications for auditions for our 2023/24 season are now closed. Thank you to everyone who expressed interest in the concert series. Details of future audition processes will be published here when open to new applications.