The Manchester Mid-day Concerts Society is over 100 years old, and was established in 1915 by the Committee for Music in Wartime as a way of engaging musicians whose livelihoods had suffered during war-time conditions. The Society aimed to boost morale in local military hospitals by using them as concert venues "for the convenience of business people, soldiers and visitors to the city." The first concert took place on the 9th November 1915 at Houldsworth Hall (now Church House, 90 Deansgate).
The concerts proved so successful that they continued after the war and in 1922 the Tuesday Mid-day Concerts Society was founded. From this date concerts were programmed in order to "provide music of a very high standard at a low admission price to enable any music lover to attend" and to "foster the best young musicians" by providing a performance platform, an audience and marketing exposure.
Auditions for emerging musicians, for performance opportunities within the concert series, are held annually in Manchester. The Society feels extremely fortunate to be able to invite such exceptional performers from all over Europe and the UK to play for the audition panel. The Society is a not-for-profit charitable organisation and is supported by grants from charitable trusts and foundations, donations from individuals, income from the Society's long-running Friends scheme, sponsorship from local businesses and box office receipts.
As well as Houldsworth Hall, Manchester Mid-day Concerts have taken place at the original Albert Hall (prior to refurbishment and reopening in 2014), the Friends Meeting House and the Royal Exchange Theatre. The Manchester Mid-day Concerts Society series is the oldest and one of the largest lunchtime concert series in the UK, and its home is now at the state-of-the-art Bridgewater Hall.
Former Society Music Directors have included pianist Edward Isaacs, and violinist and former leader of the Hallé Orchestra Laurence Turner. Thousands of emerging and established artists have performed in the lunchtime series since its foundation and these include Adolf Brodsky, the original (and latter) Brodsky String Quartet, Marie Brema (mezzo-soprano), the Vienna Piano Trio, Jennifer Pike (violin), John Lill (piano), Craig Ogden (guitar), Kathryn Stott (piano), Martin Roscoe and Peter Donohoe, Nelson Goerner (piano), Alison Balsom (trumpet), Raphael Wallfisch (cello), Gwilym Simcock (piano), The Sacconi Quartet (amongst many other string quartets!), Sheku and Isata Kanneh-Mason (cello and piano) and Jess Gillam (saxophone). 
So many of our talented auditionees have gone one to enjoy wonderful performance careers and we hope to have contributed to their journeys in some way.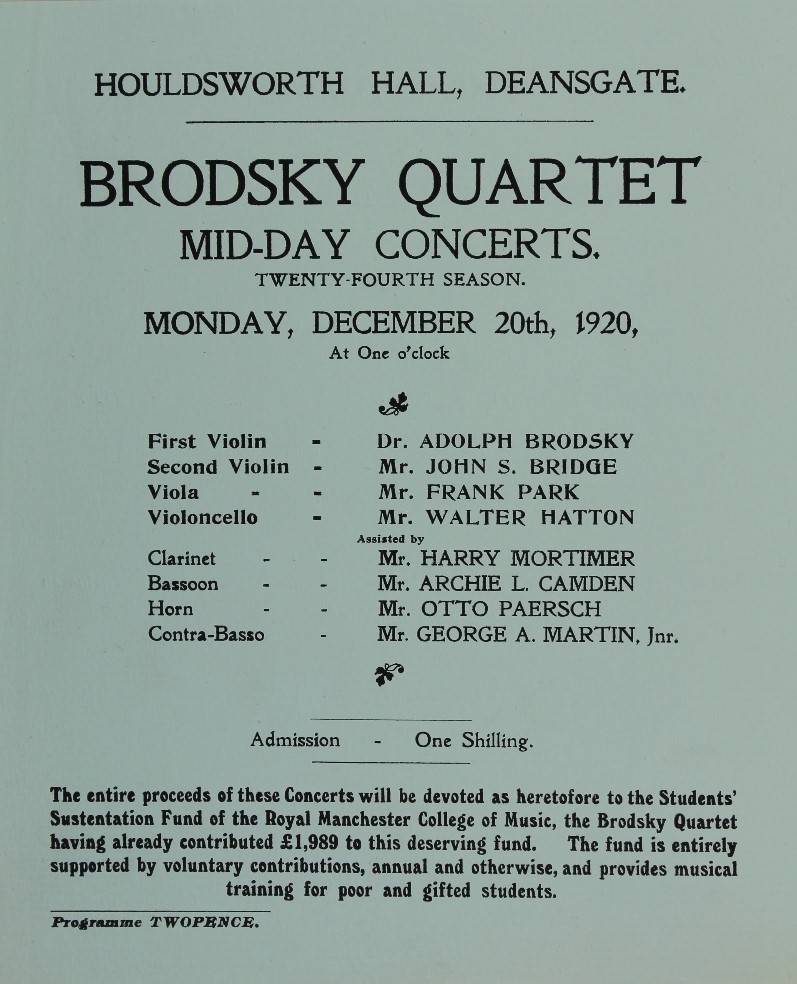 So far, the Society has programmed over 2500 performances in Manchester, with many more musicians heard during the audition process. Although the coronavirus pandemic has presented the Society with the most challenging set of circumstances in its history, we still hope to be able to continue our work for many more years to come; we hope you will join us along the way.
Applications for auditions for our 2023/24 season are now closed. Thank you to everyone who expressed interest in the concert series. Details of future audition processes will be published here when open to new applications.