Welcome to the Manchester Mid-day Concerts Society
The Manchester Mid-day Concerts Society supports emerging musicians, and is one of the largest and most successful lunchtime concert series in the country.
A message to all our valued audience members, friends and supporters...
From everybody at the Manchester Mid-day Concerts Society, we hope you have managed to stay safe and well during these difficult few months. Our plans for the 2020/21 concerts season have been put on hold for now. We are hoping to run a small number of concerts in the summer of 2021 – supporting those artists whose concerts had to be cancelled in 2020 – but these plans are dependent on how the situation surrounding public performances within the pandemic evolves. We also hope The Bridgewater Hall will be open and hosting concerts again in the near future.
We had such an exciting season lined up for 2020/21, with plenty of variety and really excellent artists, some re-invited, others invited for the first time, and many selected via our annual auditions. We are now planning to run this postponed season from September 2021 to May 2022. Sadly, due to the delay in offering performances, we have also had to suspend our annual auditions until further notice.
In the meantime we hope that you – our loyal and valued audience and supporters – will continue to keep the faith, and that together we can continue to develop the spirit and momentum that has become such an important part of the Society's lunchtime concerts.
I'm looking forward to seeing you all again when our concerts resume at The Bridgewater Hall, hopefully in the summer of 2021 if at all possible; we'll keep in touch.
Read more…Close
We have such a talented and diverse range of artists' performances to look forward to at The Bridgewater Hall in future.
As well as audience favourites the Scott Brothers Duo, Manchester Chamber Choir, Klezmer-ish and the Opera Gala, we had also hoped to bring Roberts Balanas (violin), the Mithras Trio, Hyung-ki Joo (piano), Kasparas Mikuzis (piano), Artur Haftman (piano), Imma Setiadi and Nigel Clayton (piano duo), Roman Kosyakov (piano), Ebony Preston (soprano), and Abel Selacoe (cello). Instead, we hope to host these artists for you from late 2021 into 2022 and will in the meantime share as much digital content from them as possible on our site and via Twitter. We'll keep you updated, and if you would like to support the Society during these difficult times feel free to discover more on our Friends and Supporters pages.
Simon Parkin (Director of Concerts)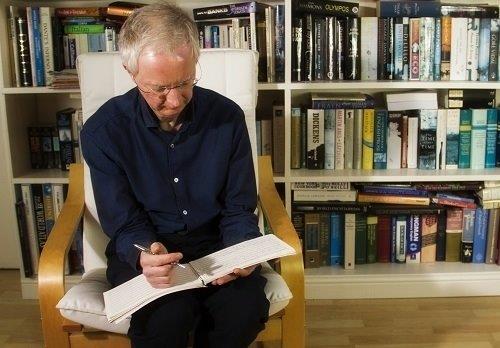 Lockdown has resulted in the postponement of our upcoming performances. We had so many wonderful artists lined up for next season, but we're looking forward to sharing digital content from our artists on our homepage, until we're able to host live music again.
Abel Selaocoe (cello)
Outstanding cellist and vocalist Abel Selaocoe is redefining the parameters of the cello, integrating the instrument seamlessly into a huge range of genres and repertoire from Western classical,  music from the African continent, folk, pop, body percussion and beatbox. In his hands the cello transcends all of the usual expectations. Prior to the pandemic, we were planning to bring Abel to The Bridgewater Hall and we can't wait to be able to do so as soon as possible.
Roberts Balanas (violin)
Latvian violinist Roberts is a musician of eclectic artistry, pairing his background in classical music with a range of musical styles from pop, rock and funk. Roberts aims to tear down the boundaries between musical genres, and his unique solo arrangements have amassed millions of views online. Watch his creative reworking of Sir Elton John's I'm Still Standing and listen to his appearance on This Classical Life with Jess Gillam, where Roberts discusses his range of interests and influences. We're aiming to bring Roberts to the Bridgewater Hall stage in 2021.
Keep checking back for more footage from our amazing artists; we hope to be able see you again at the Bridgewater Hall soon.
A treat for our future audiences, however & whenever they can join us again - will be the versatile #guitarist Tom Gamble. Packing in a whole range of styles to each set, his latest releases 'Amazonia' and 'The Cuckoo' (+Angela Hicks) are online here https://t.co/LLr4DEvr1w

— Manchester Middays (@mmcs1915) June 20, 2020
Next season's plans may be on hold, but that doesn't mean we can't share playing from the wonderful artists we're hoping to invite in 20/21. Here Leo Popplewell of @MithrasTrio is completing Schumann's Dichterliebe with himself on cello and piano https://t.co/gH4SdXnYEV

— Manchester Middays (@mmcs1915) June 19, 2020
We are so excited that the super talented George Harliono will play in our new season (when it finally arrives!) Until then, his skilled performance of #Prokofiev's Toccata (and more on his channel) is a preview of what to expect @BridgewaterHall next year https://t.co/DMAfDECFrr

— Manchester Middays (@mmcs1915) June 22, 2020
As the Coronavirus situation evolves, the safety and wellbeing of our trustees, freelancers, audience members and artists is our number one priority.
Following the publication of Government guidance on the reopening of venues and the ongoing restrictions in place within Greater Manchester, the Manchester Mid-day Concerts Society has made the difficult decision to postpone its lunchtime performance programme until spring 2021.
Although we are saddened not to be able to bring our usual mix of talented young musicians to The Bridgewater Hall stage, we will be promoting online content where we can in the meantime. Check in here, or with our Twitter to keep up to date with activities as they happen.
We understand the decision to postpone our live performances will come as a disappointment. We know how much enjoyment the lunchtime concerts bring to our audiences and to the artists performing on stage. We are monitoring developments closely and will regularly revisit this decision, should circumstances improve and allow us to begin live performances sooner.
We're hopeful that a full-scale return to concert programming will happen later in 2021.
These are difficult times for everybody. Please feel free to get in touch with any questions or concerns you may have about the lunchtime concerts or the Society.
Thank you for your continued support, We can't wait to welcome you back to The Bridgewater Hall in the near future.
Due to the COVID-19 pandemic and ongoing uncertainty surrounding live performances, plans for the Society's 2021/22 auditions are currently on hold.  
We hope to be able to organise auditions later in 2021 but until venues reopen safely, we will be unable to progress with programming as usual.
Applications will be invited from emerging instrumentalists and singers – both soloists and ensembles – as soon as it is safe and practical to do so.
In the meantime, feel free to get in touch via the contact form with any queries, and we wish everybody all the very best.
Since 2018/19 we've had...