Rainer Crosett – Cello, Simon Parkin – Piano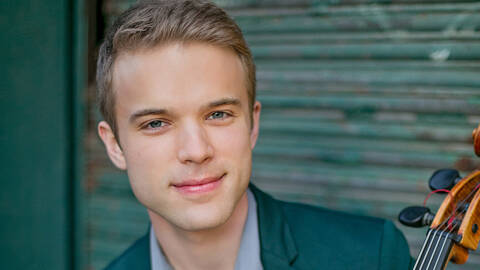 American cellist Rainer Crosett came to international attention as winner of the 2018 Pierre Fournier Award. Highlights of recent seasons include his debut with the Houston Symphony, his Wigmore Hall recital debut, and an Israel recital tour. He has performed at festivals including Yellow Barn, Trondheim Kammermusikk festival, and Prussia Cove, and worked closely with composers such as Jörg Widmann. Rainer currently lives in Berlin, where he is completing graduate studies with Jens Peter Maintz at the Universität der Künste.
Rainer is accompanied by The Manchester Mid-Days' Director of Concerts, Simon Parkin.
BOCCHERINI Sonata in C Minor G. I. Adagio // II. Allegro // III. Allegrett
YSAYE Sonata for Solo Cello in C Minor, Op. 28 // I. Grave
LIGETI Sonata for Solo Cello
BRAHMS Sonata for Piano and Cello No. 2 in F Major, Op. 99 // I. Allegro vivace // II. Adagio affettuoso // III. Allegro passionato // III. Allegro molto
Box Office
Tickets can be purchased in advance and on the day of the concert from the Bridgewater Hall Box Office:
Tel: 0161 907 9000
The Bridgewater Hall
Manchester
M2 3WS
Open Monday – Saturday, 10am – 6pm (8pm on concert nights) and Sunday (concert nights only) 12 noon – 6pm